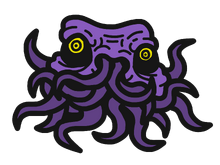 The Tentacreep is a wriggling mass of tendrils with spooky eyes. It has the gimmick of being several cooperative entities at once, with its tentacles attempting to block the player's advance.
Gimmick
The Tentacreep has 2 usable tentacles which poke out of the ground and move to the side of the player opposite to the Tentacreep, in order to block their escape.
The tentacles do not do damage, but on contact they will slowly push the player towards the Tentacreeps so it can inflict some pain.
Variants
Tentacreep
Tentacles will respawn between encounters, should the player escape the Tentacreep's sight. There are 2 tentacles which exist to push the player towards the creep.
HP: Average
Speed: Slow
Damage: High
-Tentacle x2-
HP: Low
Speed: Slow
Damage: N/A
Squiddy-Scumbag
Tentacles have a much longer range and may harass the player without the Scumbag being in range. They wander off on their own and will stray a reasonable distance from their owner. They place themselves in front of the player and can deal damage. There are 4 of them and they will regroup if Squiddy finds the player.
HP: High
Speed: Slow
Damage: Very High
-Tentacle x4-
HP: Low
Speed: Quick
Damage: Normal
Octoputrid
Tentacles wander off on their own. They will alert Octoputrid and all other tentacles to your location if they find you, and the tentacles try to form a ring surround the player and hold them in place while Octoputrid comes in to deal some damage. Tentacles recieve a 0.5 damage resist when forming a ring, making it harder to break their lines.
HP: Very High
Speed: Average
Damage: Incredible
-Tentacle x8-
HP: Low
Speed: Quick
Damage: Normal